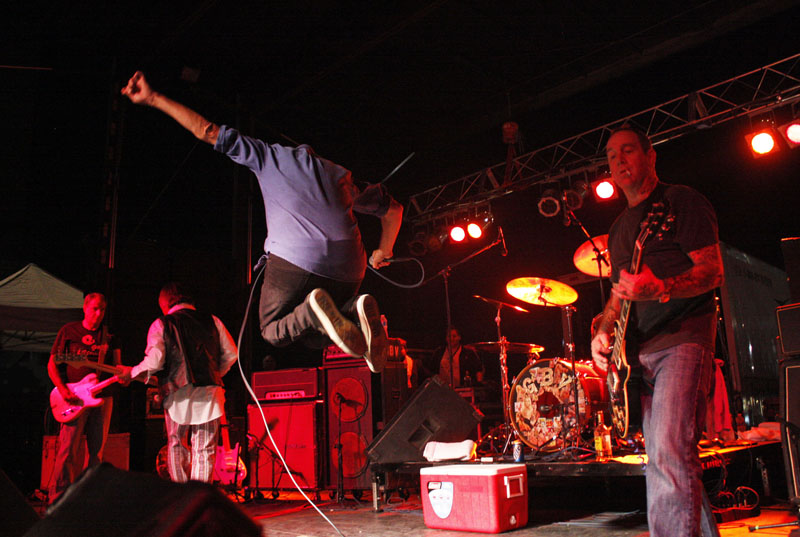 This has been one weird day. On the same day that
R.E.M.
announced they were packing it in after 31 years,
Guided By Voices
provided some solace and frankly sheer excitement with the announcement via
MOJO Music
that they have recorded not one, but two new albums to be released in 2012. After hearing rumors of these recording over the summer we tried to forget we heard what we heard and hoped like hell that things would come to fruition. Well, after today's announcement we're thrilled to be able to post all the information we have on the first recordings from GBV's classic line up since 1996 brilliant,
Under The Bushes Under The Stars
.
On January 1st Guided By Voices will issue
Lets Go Eat The Factory
to mail order/internet order fans. On October 31st
Rockathon/The Factory of Raw Essentials
will begin taking pre-orders for the LP, that's also Bob Pollard's 54th birthday. The album will arrive in brick and mortar record shops on January 24th.
The album consists of 21 tracks recorded by the band at Tobin Sprout's home studio as well as in the homes of Mitch Mitchell and Greg Demos. The shortest track is :34 and the longest is 4:10 with writing credits going to Bob, Toby, Greg, Mitch, and Jim Pollard and Sprout takes on lead vocal duties on 6 of the albums tracks.
If that wasn't enough for us to break our collective pants it has also been reported that Guided By Voices will release a second album of new material next year titled Class Clown Spots A UFO on May 22nd, not to mention a Pollard solo LP Mouseman Cloud on March 20th.

Lets Go Eat The Factory track listing:
Laundry And Lasers
The Head
Doughnut For A Snowman
Spiderfighter
Hang Mr. Kite
God Loves Us
The Unsinkable Fats Domino
Who Invented The Sun
The Big Hat And Toy Show
Imperial Racehorsing
How I Met My Mother
Waves
My Europa
Chocolate Boy
The Things That Never Need
Either Nelson
Cyclone Utilities (Remember Your Birthday)
Old Bones
Go Rolling Home
The Room Taking Shape
We Won't Apologize For The Human Race



Photo Credit: Final GBV Show, Hopscotch Music Festival, Raleigh NC 9/9/11, Daniel Coston